Razor E Prime III​
Portable & Extremely Lightweight​
Built for speed, versatility, and making an impression, the Razor E Prime III Electric Scooter is the next generation of transportation from the brand that first introduced the kick scooter in 2000. Perfect for mature riders' commutes to work, school, or wherever life takes you, (local laws will apply) the E Prime III Electric Scooter is the 3rd evolution in the E Prime folding electric scooter series and is built with ease and portability in mind. At 24.2 lbs (11 kg), it's the lightest electric scooter in its class and can be carried easily on the go or stored at home, in your car, your dorm, or office. With a 250-watt brushless hub-drive motor, LED headlight and brake-activated taillight, and a dual braking system, the E Prime III Electric Scooter will get you to your destination and back again safely. With an obsessive attention to the rider's experience, our engineers and designers have created a responsive, smooth, exhilarating ride. Made of aircraft-grade aluminum with high-quality metallic finishes for a sleek, modern design – with the E Prime III Electric Scooter, wherever you go, you'll arrive in style.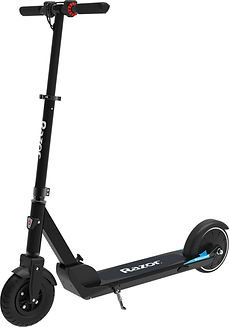 Razor E Prime Air
Premium Electric Scooter
Comfort, performance, and style, the Razor E Prime Air premium electric scooter has it all! Sporting the sophisticated design and electric efficiency of the original E Prime, the E Prime Air also features a large, 8" (200 mm), pneumatic front tire that softens out rough surfaces and a sturdy aluminum frame for the smoothest ride around. Whether you're commuting to work or running errands around town (local laws will apply), we've got you covered – in comfort.